This is one of several posts I intend to do where I gather my favourite imagery from magazines in one place.
Since the first time I was given pocket money I longed for the day I could afford to go out and buy one of the glossy, thick, sweet smelling books that I had seen the older girls that I worshipped pore over for hours.
The moment I bought my first one, christened it "ma magazine" and carried it around with me until it fell apart in tatters, I knew this was an addiction I didn't want to shake.
Vogue, Elle, Heat, Tank, Dazed, Vice, Vanity Fair, Pop, Love, More, Glamour - I have no standards when it comes to this little slither of escapism. There is no doubt I am at my happiest curled under a blanket with a huge stack of them in front of me, and ideally a friend right next to me to compare notes with.
Well written, full of trash, too many adverts, obsessed with image, regurgitating the same old tosh, the bane of society...say what you will. Me and ma magazines will be friends for life.
The words and the pictures satisfy me in equal measure. I spend hours
scrapbooking
pictures I cut out and keep, scribbling down the photographer and stylist for each and then googling their back catalogue. Equally I waste days looking up pictures and bios of the journalists for articles, jotting down sentences and quotes and sending pieces on to friends.
I thought it would be useful to have a place to keep some of the pictures I particularly cherish, and will make this a regular feature.
If any of you have pictures you particularly adore I'd love to see them, just post a link in the comments and I'll endeavour to put them up and credit you in the next post on this topic.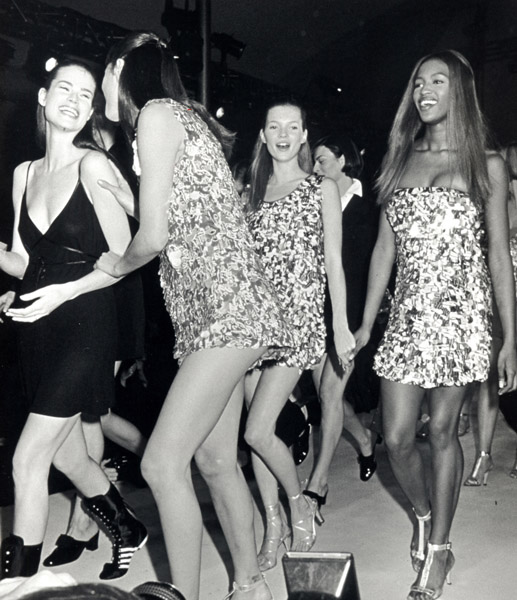 Kate, Naomi,
Christy
and A N Other - backstage at Isaac
Mizrahi
in 1993
Kate with Naomi and Linda
Evangelista
Found:
Here
Drew Barrymore
Credit: Pop magazine (this shoot was in Katie Grands last edition as editor *sob*)
Natasha Poly
Credit: Vogue Paris, photographer was Terry Richardson who is one of my absolutely favourites. I will do a post just on his images shortly.
Kate Moss at 15
Natalia
Vodianova
and her daughter
N.B - I do not buy, read or agree with the political stance of the Daily Mail but for some reason they have some great images of models that I couldn't find anywhere else. I am sorry to drive any traffic to their website by linking to their images, please ignore the words and just look at the beautiful pictures.