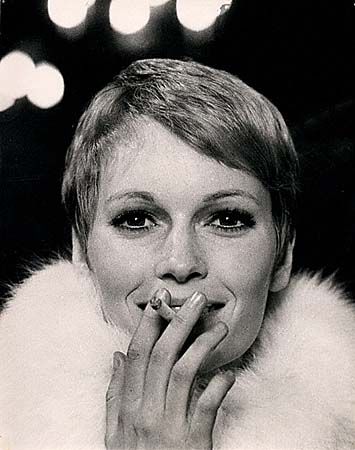 It may well be that I need to widen my group of friends and welcome more gentiles to my inner circle, but as it stands everyone I know seems to have a very strong opinion on Woody Allen.
They hate his films or worship them, his recent work is fresh and modern showing he can change with the times or he is an aging director well past his prime and, most contentiously. he gives hope to small, odd looking Jewish men the world over by seducing women like Mia Farrow or he is just a dirty old man.

Whatever your view on him, mine is this.
Annie Hall, Hannah and Her Sisters and
Manhattan
are wonderful films. I didn't enjoy Match Point one bit but that may have been more to do with me, I felt that it took a tragic view on the world and relationships and one that wasn't realistic. It felt forced. Woody Allen makes me laugh, through his writing, his stand up and his acting. I also think he is a brilliant director, and when I was looking for pictures for this post I realised how many iconic images he has created.
I don't have much of a view on his relationship with his girlfriend's adopted daughter, Soon-
Yi
, although I think it must have been tragic for Mia Farrow to be betrayed in this way (do I have to say allegedly in blog world?) However the fact that he is still close friends with Diane Keaton re-assures me he is not a bad man, which is important of course!
The fall out from the
American Apparel court case
has, in my view, reflected very poorly on Dov
Charney
(founder of American Apparel) and I will certainly think twice before buying his clothes again. I don't claim to be an ethical shopper, but I think he acted poorly and dragging someone
else's
personal life into a case like this is bad form. Particularly when your own name is
not exactly untarnished
.
It is his biting wit and capacity to articulate so simply the misery at the mundane I love most about Woody Allen. Add that to the bevy of beautiful and talented women he has seduced, the seminal films he has written, the catalogue of memorable scenes he has directed, the storm of rumours and gossip that surround him and you get a character who will always divide a room.
While researching this post I discovered some things I did not know...
Diane Keaton dated Al Pacino and Warren
Beatty
, as well as Woody, and I found this great quote:
"Al was simply the most entertaining man... To me, that's, that is the most beautiful face. I think Warren was gorgeous, very pretty, but Al's face is like whoa. Killer, killer face."
Woody Allen was born Allen Stewart
Konigsberg
. He chose his stage name from an idol, famed clarinetist Woody Herman.
Woody Allen and his New Orleans Jazz Band play every Monday evening at Manhattan's Carlyle Hotel, specializing in New Orleans jazz from the early twentieth century.
Barbara Hershey (middle sister in the famous Hannah and Her Sisters picture at the top) is the much referenced, much older and much envied (by me) lover of
Naveen
Andrews who plays
Sayid
Jarrah
in Lost (picture below).
Picture Credits:
Early days stand up
Woody and Mariel Hemingway on the set of Manhattan
Woody and Diane Keaton in Love and Death
Mia Farrow, Dianne Wiest and Barbara Hershey in Hannah and her Sisters
Stacey Nelkin
Woody and Diane Keaton in Annie Hall
Mia Farrow (and more below because I couldn't do a Mia Farrow post without showing you some more of her)
Finally, how could I post about Woody's women without including the most controversial of all - Soon-Yi Previn
Last 4: Naveen and Barbara, and 3 gorgeous Mia Farrow images I found. I could, and most likely will, do a whole post on her.